We strongly recommend to use iphone or android to control the rail,it 's easier and more  intuitive.Android 's apk can be found in our download page and iOS app can be found in App store now.Please search"WeMacro"in app store.
The control box we are shipping now is only one type,bluetooth version.It can be controlled by1, Windows PC though usb cable
2, Bluetooth 4.0 on phone(Android and iOS).
3, Bluetooth and USB on MacOS
Bluetooth control
(almost same,but it show clearly how the rail work) It almost same in iOS app.Search "WeMacro"in app store you will find it.
iOS device at least ipad 3 or iphone 4S which has bluetooth 4.0.
The difference is in iOS app ,the parameters save end with ***.wm. No  limits of lens of parameters number.It can not be deleted once you make a **.wm file in iOS folder, but it can be changed.
Bluetooth version connection:Stay close to the control box  within 2 meters.Open the app in the phone then wait about 5 seconds,the app will show "Remote device connected".If the app do not show this message,you can slide to second page then slide back to first page of app.Wait about 5 seconds the message should appear.Before open the app,please make sure you are not running this app in background already. (Sometimes  you need restart Bluetooth function on phone  if it can't connect first time.Detail process as below:
1, Disable the bluetooth on the phone, then restart it.  Quit wemacro program in background (Please be sure you had installed the bluetooth version of apk).
2, Turn on the control box. Then turn on the app on the phone. Stay close with the control box within 1 meter.
Wait for about 5 seconds it will show device was connected. If does not, slide to next page of app then silde back to the first page and wait for few seconds. It will connect to the control box again.
)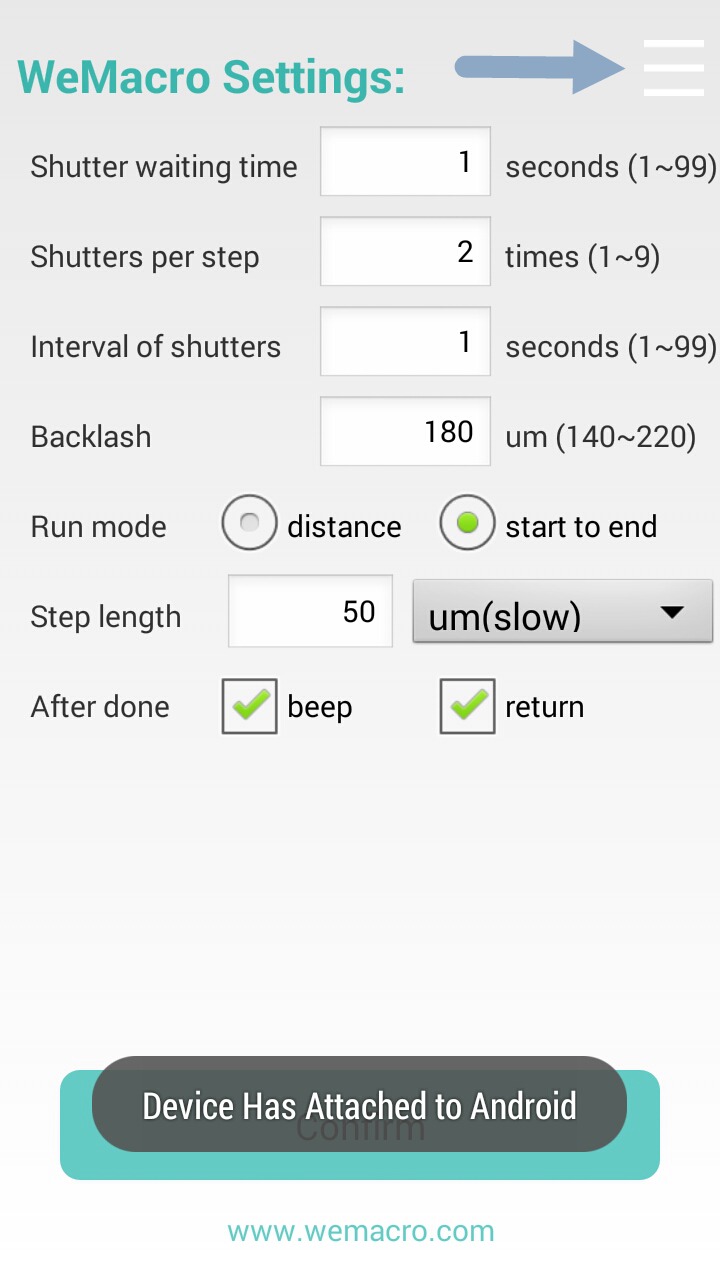 You can press the area where the arrow point at.To load or save settings in your phone's SD card. As below: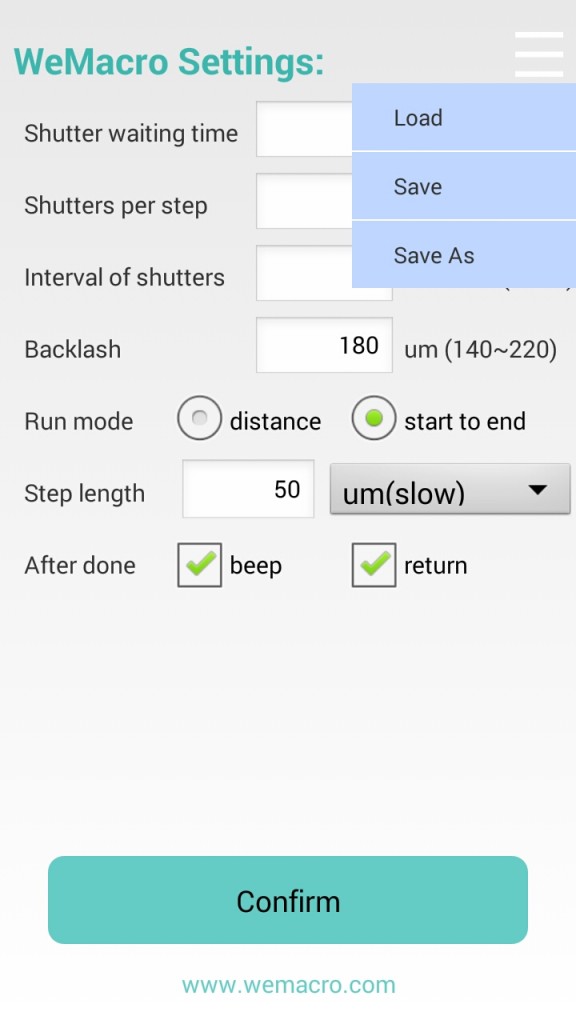 You can save or load setting in WeMacro's directory.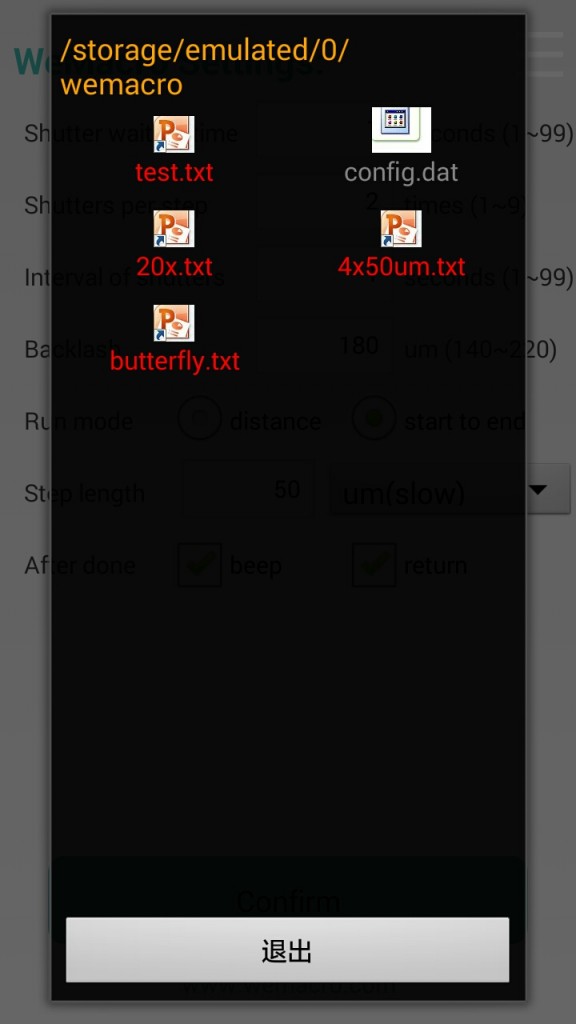 The setting file should name as ABC.txt.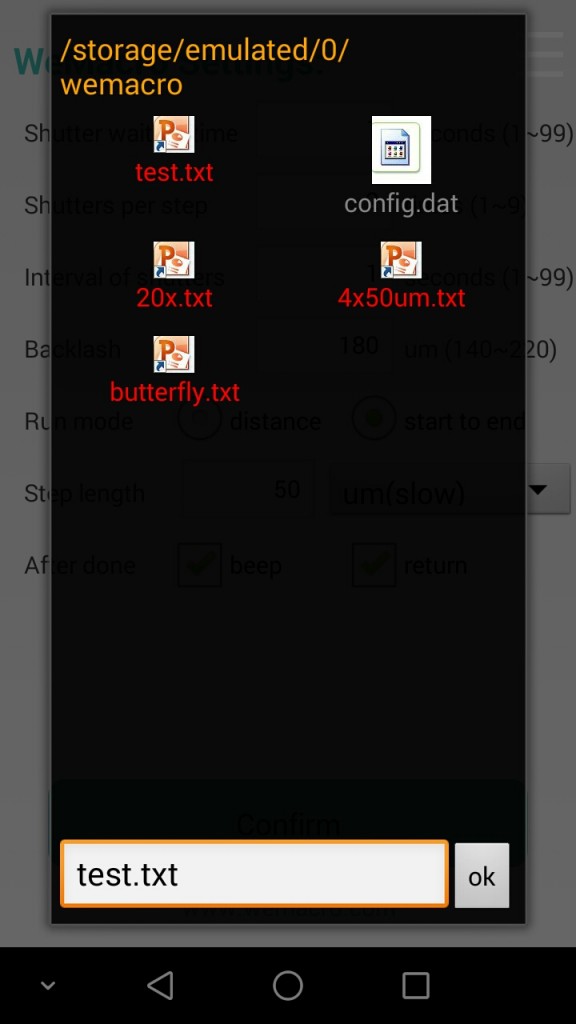 You can set backlash for compensation in this apk now.The value is around 180 micron for new rail.
We offer 2 mode in this APK
1 distance mode :Means you can input the total distance  you want to move and single step length.The program will calculate how many steps it will take automatically.If you change single step length,the step number will change accordingly.
Press "confirm"to save setting to control box.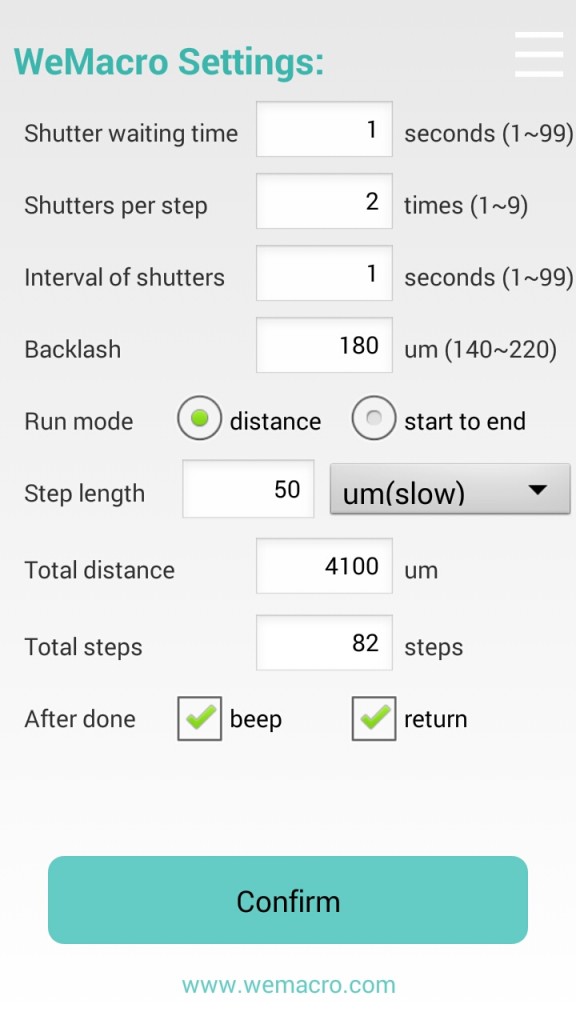 You can see steps number changed after typing new distance.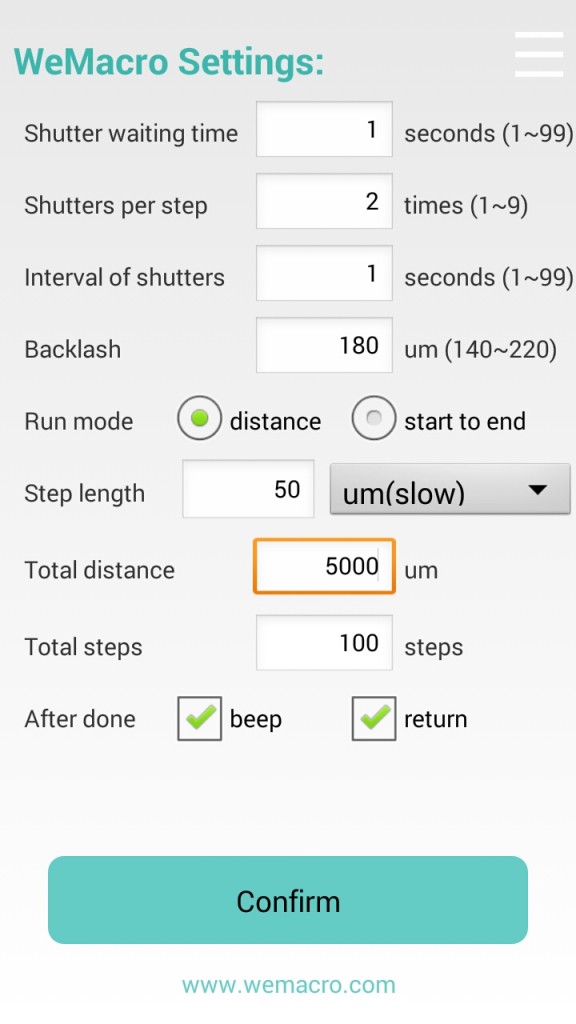 After pressing "confirm",you can slide to next page.(1000um=1mm)
In second page,you can step forward,or go backward to adjust position.
If you tick off go back after running,you can press "calibrate"to compensate backlash after the rail stop.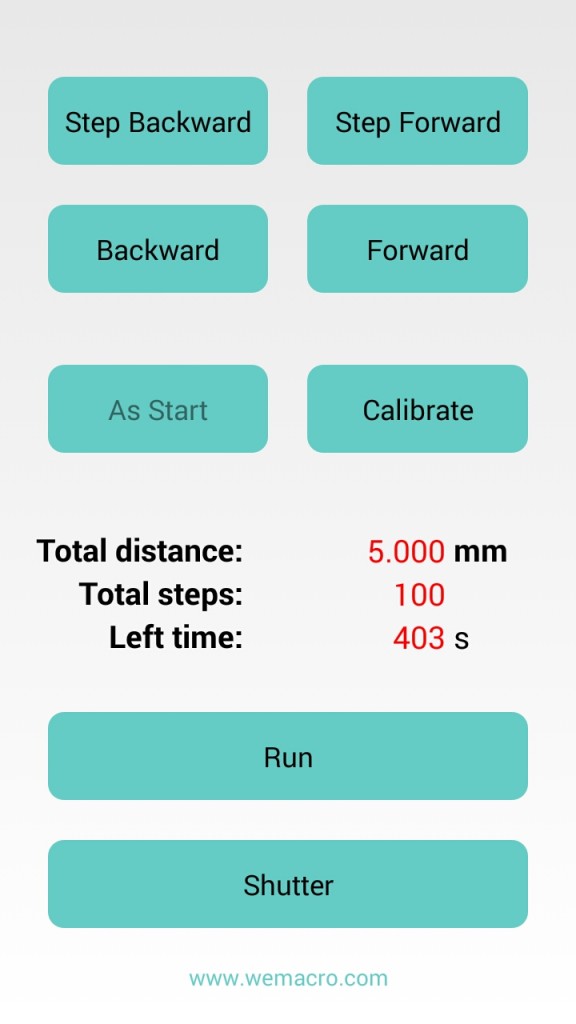 When the rail is running, the "run" button will show as "STOP". If it be pressed, the rail will stop.
The "stop" button need to be pressed to switch to "run" when it finish running.
Mode: Start to End
Means you can set starting position and ending position,step length.The rail will run automatically.Press confirm after setting the first page.
In second page you can adjust the position to close to the starting point.If you feel too slow to adjust in micron mode,you can return to first page,swtich to mm mode.But please remember to change back before fine adjustment.To get better accuracy,if you press backward or stepbackward in adjusting positon,please make forward or stepforward,length should be longer than 180um,about 1/4 rotation.So we suggest slowly go forward or step forward  to approach the starting point.You view it on camera's LCD or by using EOS utility,helicon remote or nikon camera control pro on PC.But remember to turn off live view on camera or PC software,before start shooting.
Press "As start"to set starting point.Then press step forward or forward to find the ending point.Forward direction only!
When the rail arrive ending point,please press "As end"the rail will go back to starting point you just set.Please remember to press "calibrate" before running.
How many steps and how long time it will take will be indicated on second page.
"Calibrate"button will be activated if you tick off return after done.It should be pressed before you rerun.
Meanwhile,if you need stop in running or run again,the usb cable or bluetooth should be keep connecting.
When the rail is running, the "run" button will show as "STOP". If it be pressed, the rail will stop.
The "stop" button need to be pressed to switch to "run" when it finish running.
Notice:The shutter signal may not work if you are controlling the camera through a USB cable on PC by camera software such as Canon's EOS utility or Nikon's CameraControlPro.Turn off live view function in software can make trigger signal from control box works.Also set the camera at M mode and the lens is MF mode too.