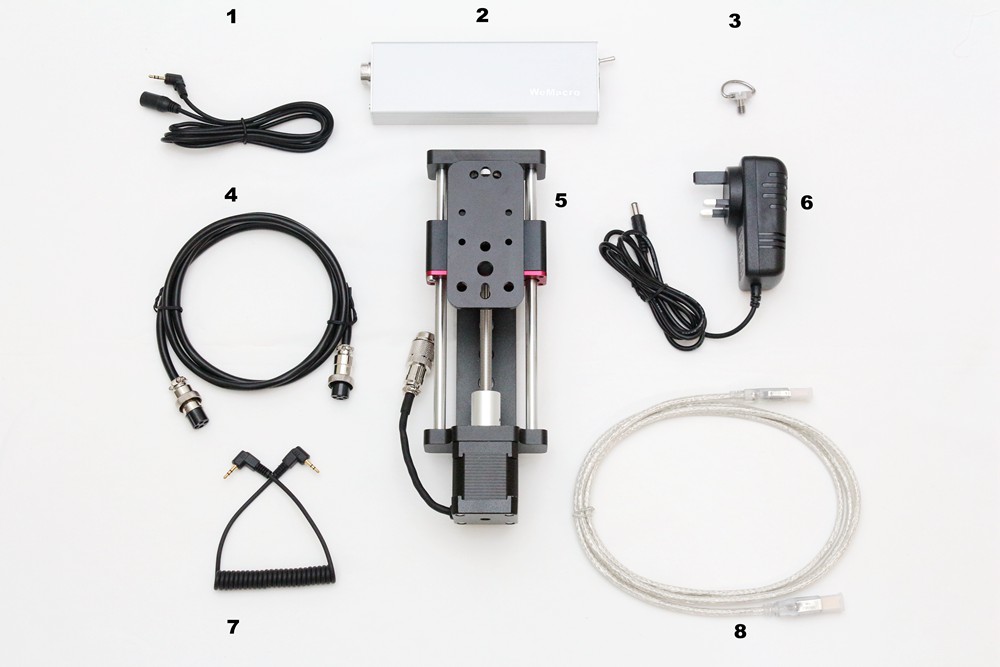 STANDARD PACKAGE PARTS LIST
1,shutter extension cable;   2,control box;  3,1/4 inch screw; 4,stepper motor cable;  5,the rail;  6,adapter(depending on customer choose);  7,shutter cables(depending on customer choose); 8,USB cable 9; Specimen holder 10: OTG& type C  adapter(for those android without bt4.0 but have otg function ) 11;2 nylon blot(is a lite version of "ring support" to support lens)
(9-11 not on this picture)
Product Name
WeMacro focus stacking rail
Camera support
Nikon,Canon,etc
Demension
length 250 mm, width 80 mm, height 81 mm
Rail weight
about 1.3 Kg
Total travel length
100 mm
 Minimum step
1 micron (single direction)
 Backlash
220 micron(recommend value setting in software)
 Speed
two (fast in millimeter mode ,slow in micron mode)
 Operating system
win XP,Vista, Win 7,Win 8,Win 10 ( VC runtime library supported)

Android phone with bluetooth 4.0 or OTG  download

iphone (app is available in APP store. Please search"WeMacro")

OS X control  download by bluetooth 4.0

OS X controlled by USB port  download (new!)

 Back to start
support
 Beep after finish
support
 Shutter output
2.5 mm
 Power supply
12V , 2A (global support)

Working current :about 0.3 amp in micron

Idle current:about 0.3 amp in micron

Coarse adjustment current in mm unit mode:about 0.8 amp

 Vertical load
3kg
Horizontal load
5kg
 Communication cable
USB B-type,1.5m
 Shutter output
2.5 mm
 Total package weight
about 2.1 Kg
1,The black decorative frame on control box is removed since July,2016.Because we found it easy to crack if the box fall on the ground or in very cold circumstance.We hope all parts can be used for quite a long time,so we remove it.If the users find there is crack on the plastic frame,you can easily remove the frame by a Phillips screwdriver.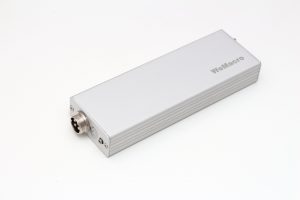 2,The color of usb cable can be different from the picture above.
3,From Aug 8, 2016,the control box will be bluetooth version.Unless you send us email ask for otg version,otherwise bluetooth version will be sent as default.The bluetooth version can be controlled by any android phone with bluetooth 4.0 and iphone.If you need control by PC,please use USB cable.
4,The holding time of the shutter release had been extended a little to fix pentax's system trigger problem.
The problem was mentioned in Johan's review .And the screw-in camera bolt had been changed to shorter one to fix pentax's threaded hole.