Description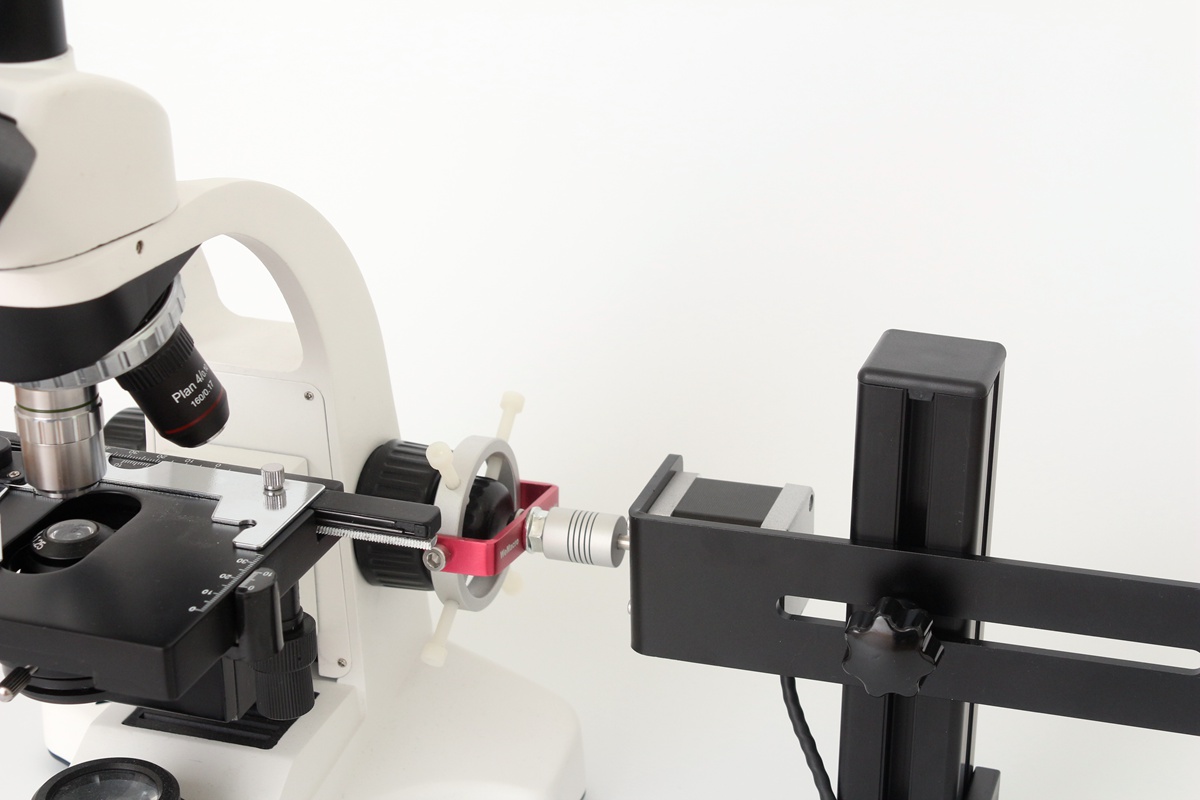 MicroMate is specially designed for microscope focus stacking.The motor on MicroMate is 400 step 0.9 degree.
The hight of motor can be adjusted as 2cm-18cm(It depends on the fine adjustment knob height)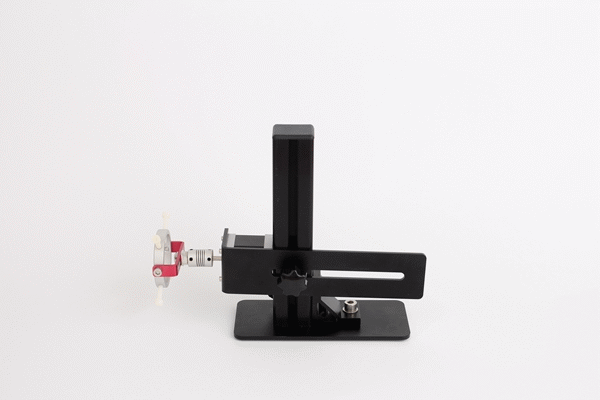 The package contain  as below:
1, MicroMate  bracket
2,Control box(bluetooth build-in)
3,Power supply (12V2A,Please select your contry's type)
4,USB cable(about 1.5m)
5,Stepper motor cable( about 1m)
6, Shutter extension cable(about 1.5m)
7, Shutter release cable (Please select in option)
8,Reverse motor cable(It's better to let objective lens leave the sample in stacking)
When the step length set as 1 micron in software,it will take 2132 steps make a full circle.
If the fine adjust focus of microscope rotate one circle as 500 micron.The minimum step is 500/2132 ≈0.23 micron as a step.If the step length set as 5 micron,the  real step is 500/400 =1.25 micron as a step.
If the fine adjust focus of microscope rotate one circle as 200 micron.The minimum step is 200/2132 ≈0.09 micron as a step.
Demo Video (To make it clearly,we enlarge the step size for demonstration):
If you already have WeMacro control box already,please visit
http://www.wemacro.com/?post_type=product&p=1463&preview=true
Shutter release cable type
1C  For  Canon EOS1100D(Rebel T3), 700D(T5i), 650D(T4i), 600D(T3i),60Da, 60D,70D, 550D(T2i), 500D (Digital Rebel T1i), 1000D (Digital Rebel XS), 450D (Digital Rebel XSi ), 400D (Digital Rebel XTi ), 350D (Digital Rebel XT), 300D (Digital Rebel), Canon EOS 30, 33, 50, 50E, 300V, 300, 3000…etc;
PowershotG15,G12,G11,G10,G1X;
PENTAX K-7,K-X,K-50,K-1,645,etc
3C For Canon:EOS6D, 7D, 50D, 40D, 30D, 5D, 20D, 10D, 5D Mark II, 5D Mark III, 1D X, 1D Mark IV,1Ds Mark III, 1D Mark III, 1D Mark II N, 1Ds Mark II, 1D Mark II.
1N For Nikon D4, D3X, D3, D700, D800, D800E, D700, D300S, D300, D200;D810;D500
3N For Nikon:D600, D3200, D3100, D5100, D7000, D7100,D7200, D5000, D90,D750
J for Olympus E-620,E-600,E-550,E-520,E-450,E-420,E410,E-100,E-30,E-PM1,E-M5,E-PL2,E-PL3,E-P3,EP-2,EP-1,SP-590UZ,570UZ,565UZ,560UZ,550UZ,510UZ,810UZ,SZ-30MR,SZ-20,SZ-11
S2 for Sony :A58 NEX-3NL A7 A7R A7R2 A7S A3000 A5000 A6000 HX300 HX50V RX100II RX100III
E3  for Fuji X-Pro2,X-E2S,X70,X-T10,X30,X100T,X-T1,X-E2,FinePixS1,X-M1,X-A1,XQ1,X-A2,XQ2
S1 for Sony:A900 A700 A850 A550 A500 A450 A400 A350 A300 a200,a100,a99、a77、a65、a57、a55、a35、a33
L1 for Panasonic:DMC-FZ50, DMC-FZ50K, DMC-FZ50S, DMC-FZ30, DMC-
FZ30K, DMC-FZ30S, DMC-FZ20, DMC-FZ20K, DMC-FZ20S,LC-1,L1.G1 GH1 GF1 GH2 G3 GH3 GH4 GX7
Data of Nikon CF plan objective lens for reference.