Description
Description
Main package of WeMacro rail(100mm)
The control box can be controlled by :1 usb port on windows PC,2 Bluetooth 4.0 on Android phone ,3 Bluetooth 4.0 on iphone and ipad (ios8 at least) ,4 Mac OS by bluetooth 4.0, 5 Mac OS by USB
The package contain  as below:
1,WeMacro rail
2,Control box(bluetooth build-in)
3,Power supply (12V2A,US plug)
4,USB cable(about 1.5m)
5,Stepper motor cable( about 1 m)
6, Shutter extension cable(about 1.5 m)
7, Shutter release cable (5 common shutter cables are included, please see the end of this page for supported camera models)
8,One 1/4 inch bolt for quick release clamp(already mounted on the rail)
9, One specimen holder(Easy to set your sample,there is 1/4-20 Thread in the nut,easy to install on other equipment.)
10,a quick release clamp on the rail.Install the camera in seconds!
More detail please view our website.
Unique design of WeMacro rail
High quality plug,ready to face any circumstance.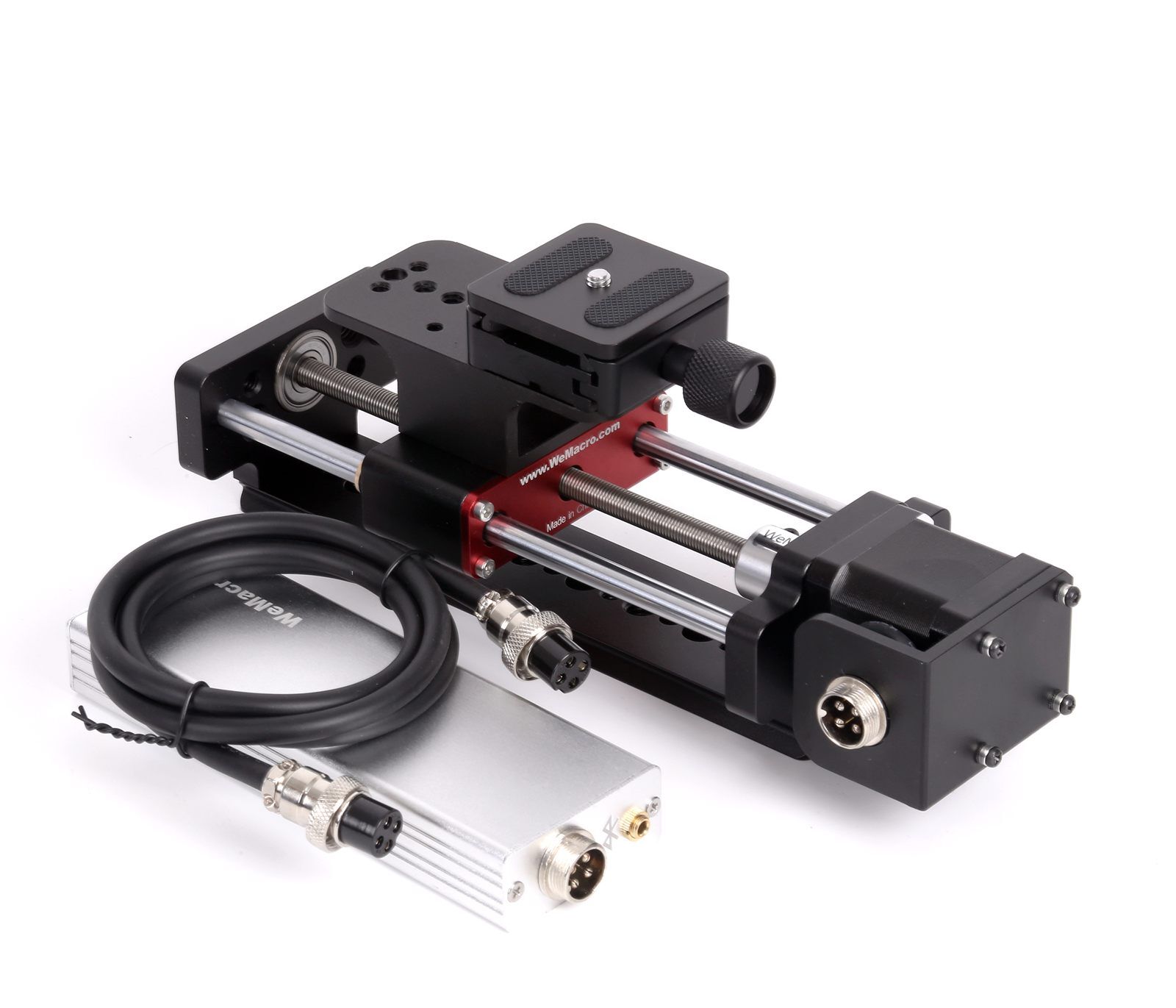 There are 2 1/4 inch threaded holes and two 3/8-Inch-16 threaded holes at the front of the rail, which can be used to install auxiliary tools such as magic arms.
Very convenient to use in the field.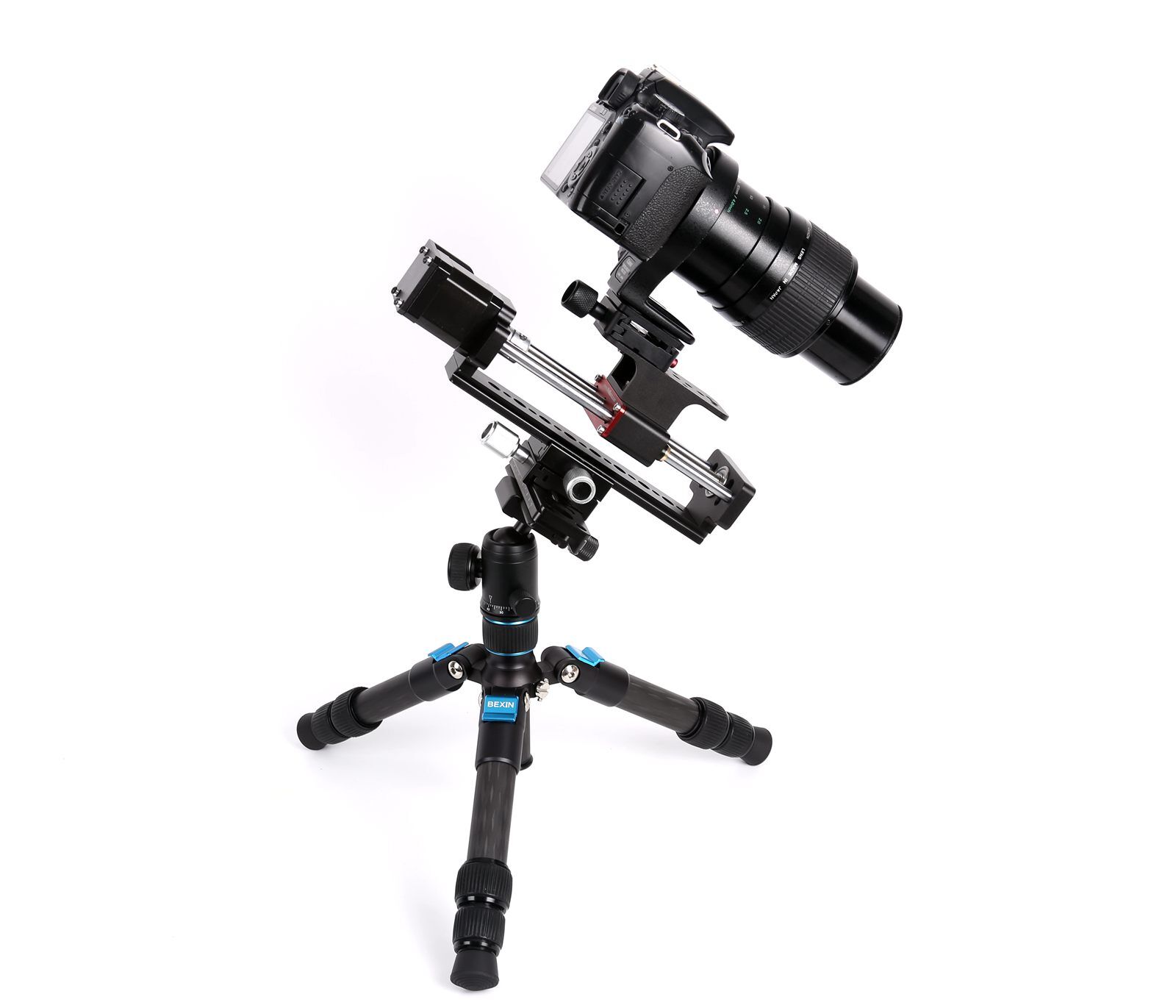 Multi points to support lens
Some lens,especially,tube lens with Infinity Corrected Objectives.The body of lens will be heavy and center of gravity will  amplify the vibration from camera's mirror.
 We provide two M5 thread hole which can support the lens and reduce a lot of vibration time.
If you lens is long,we strongly recommend add Ring Support in cart.It will provide much stable lens support.Demo with Laowa 25mm
(https://www.wemacro.com/?product=ring-support-for-lens)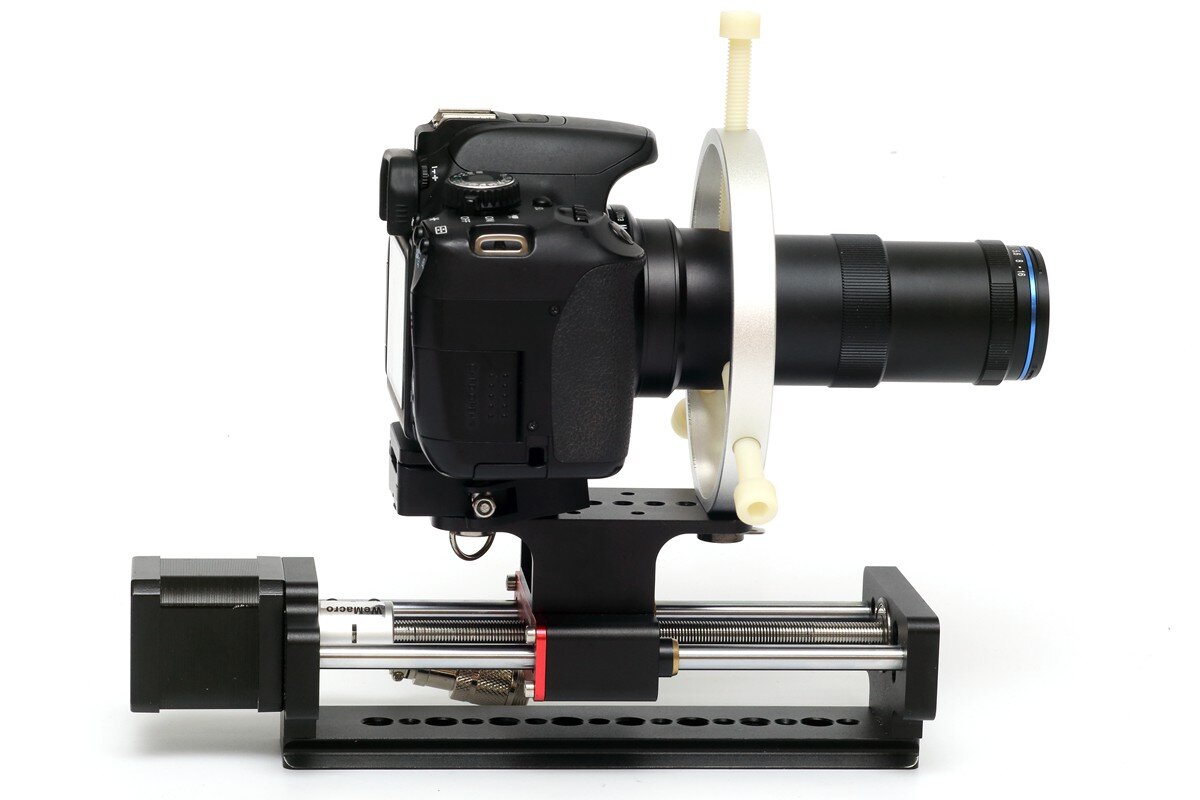 We provide a power bank cable for free in the package.This cable and a power bank will supply the controller.If you want to try stacking outside,it will help a lot! This part is a standard accessory in WeMacro rail package!Please notice the power bank itself is not included.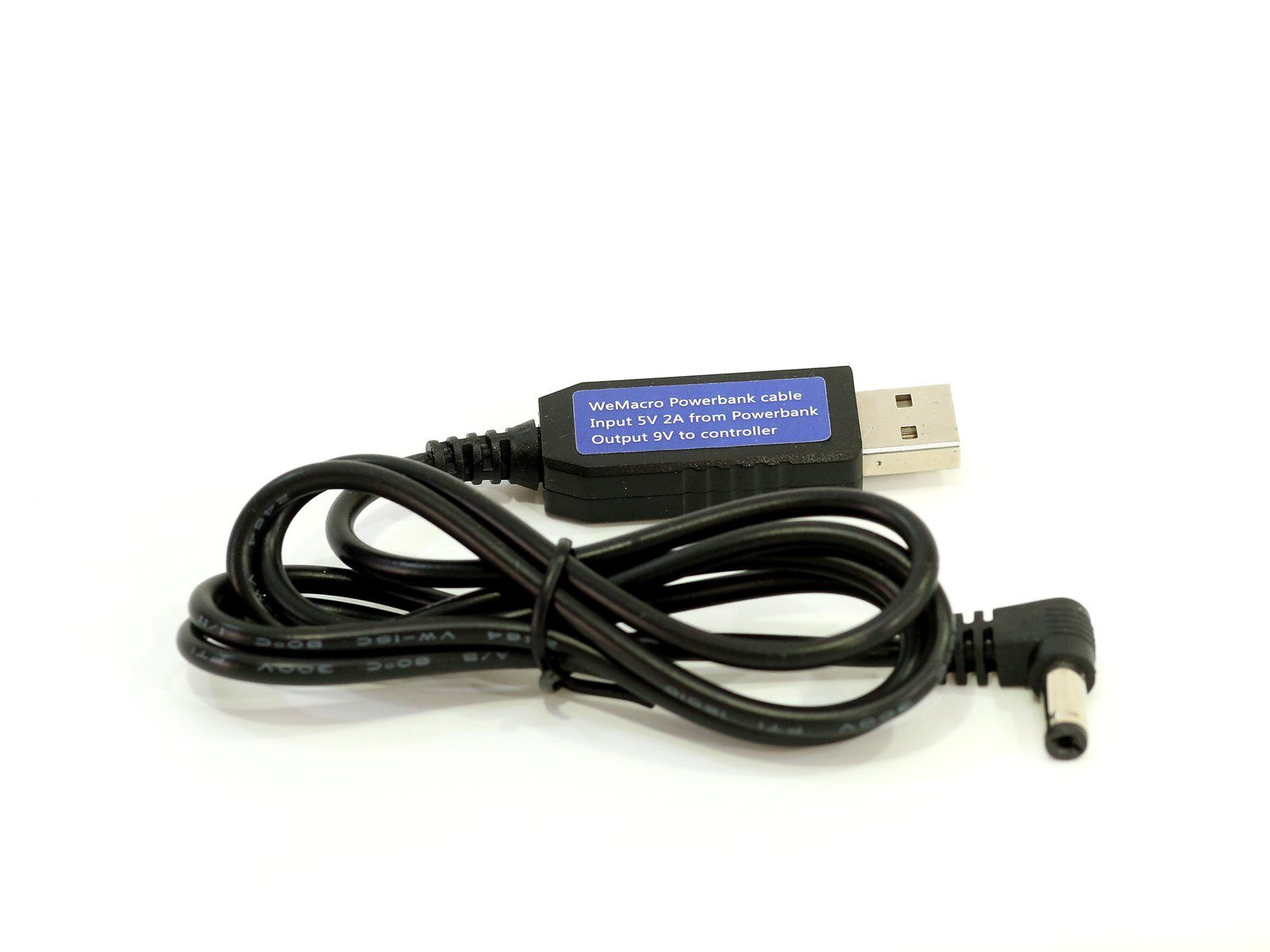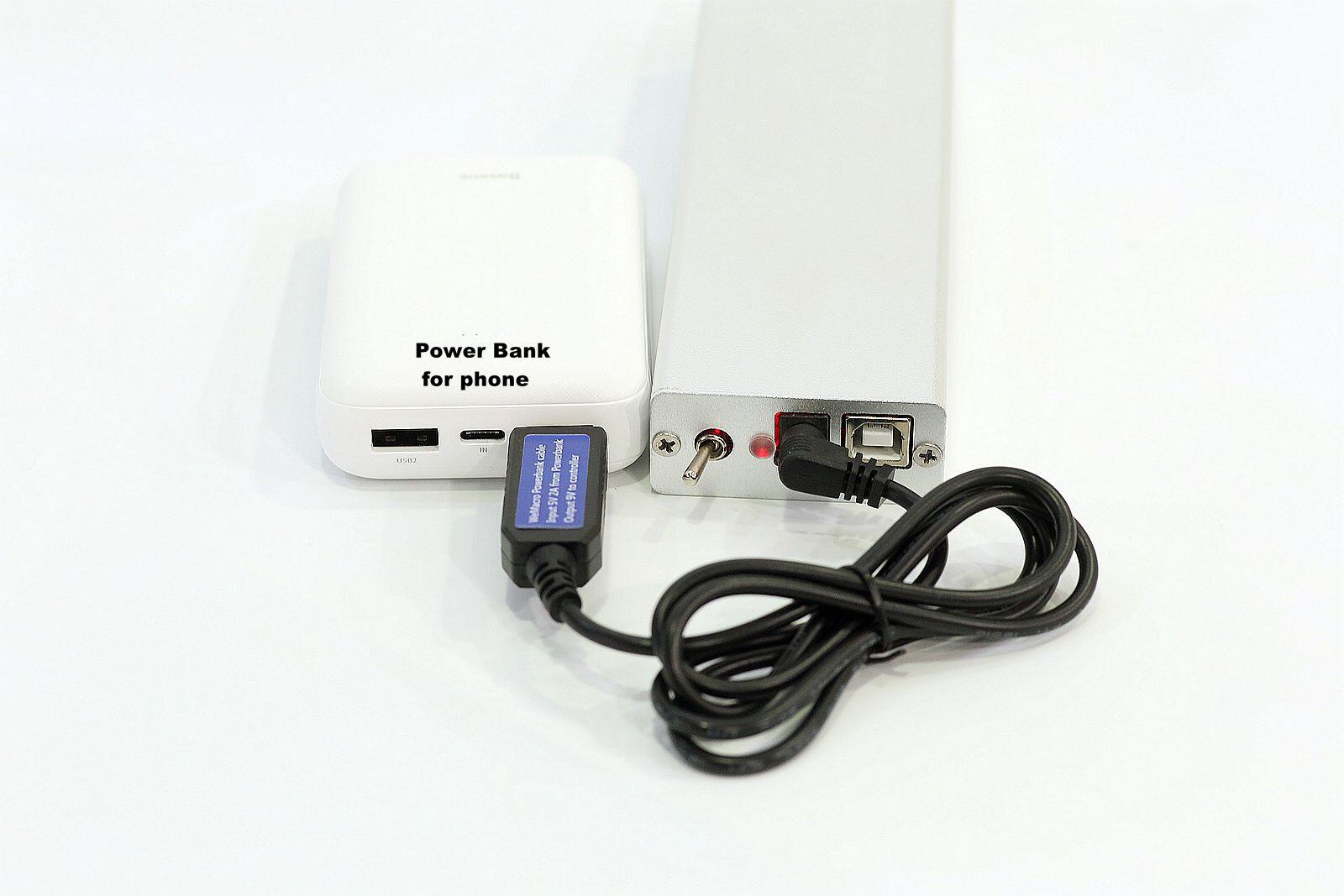 Shutter release cable type included
1C  For  Canon EOS R6,R7,R10,R,RP, 1100D(Rebel T3), 700D(T5i), 650D(T4i), 600D(T3i),60Da, 60D,70D,80D,90D, 550D(T2i), 500D (Digital Rebel T1i), 1000D (Digital Rebel XS),77D, 450D (Digital Rebel XSi ), 400D (Digital Rebel XTi ), 350D (Digital Rebel XT), 300D (Digital Rebel), Canon EOS 30, 33, 50, 50E, 300V, 300, 3000,EOS  M5,M6,M6 II…etc;
PowershotG15,G12,G11,G10,G1X;PENTAX K-1/K500/K-3II/K100D Super/645D/K-50/645Z/K5II/K-5IIs/K3/K100D/K110D/K10D/ist DS2/K20D/K7/ist Ds/ist/ist DL/MZ-6/ZX-L/MZ-L/ist DL2/K5/K30/KX;Olympus Em-1 Mark II ,EM1 Mark III,E-M1X,E-M5 Mark III,Fujifilm X-T3,X-T4,XH1  X-T10,X-T20,X-T30
3C For Canon:EOS R3, R5,6D,6D II, 7D, 50D, 40D, 30D, 5D, 20D, 10D, 5D Mark II, 5D Mark III,5D IV,5Ds,5DsR, 1D X, 1D Mark IV,1Ds Mark III, 1D Mark III, 1D Mark II N, 1Ds Mark II, 1D Mark II.
1N For Nikon: Z9,D850,D4, D3X, D3, D700, D800, D800E, D700, D300S, D300, D200;D810;D500
3N For Nikon:Z6,Z7,D600, D3200,D3300, D3100, D5100,D5200, D7000, D7100,D7200, D5000, D90,D750,D90,D5300,D610,D5500,D7500,D5600,Z6 II,Z7 II
S2 for Sony :A7R3,A7R4,A58 NEX-3NL A7 A7MII A7MIII  A7R A7R2 A7S A3000 A5000 A6000 HX300 HX50V RX100II RX100III,A9,A1
The products at this link contain only the shutter cables listed above. If you have a Panasonic camera, please add the L1 shutter cable from the store to your shopping cart.